We are still in the process of putting together even more new recipes for the latest edition of the Herbal D-tox Cookbook. Here are a few more recipes that I have been working on.
If you have any tasty ideas and would like to share them with others, we sure would like to hear them.
RED PEPPER DIP (MOUHAMMARA)
 MARINATED GRILLED LIME CHICKEN 
BEET QUINOA SALAD
RED PEPPER DIP (MOUHAMMARA)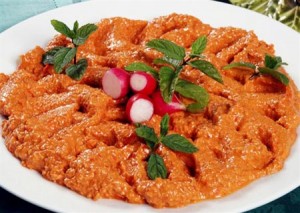 3 Red Peppers
1 small Red Onion
180 ml (3/4 cup) Almond (Walnuts are traditional)
1-4 Garlic cloves
60 ml (1/4 cup) Olive Oil
15 ml (1 Tbsp) Cayenne Pepper
(less if you do not like it spicy)
1.3 – 2.5 ml (1/4 -1/2 tsp.) Cumin
Lemon Wedge Squeeze
Salt to taste
For gas stoves, place the whole peppers directly on burners flipping them with tongs until they are black all over. Or if you use an oven, roast for 10-12 minutes at 175C (350F) on a greased baking tray, turning approximately every 4 minutes. When finished, peel off the skin and remove the seeds and stem.
Chop and sauté onions for 3-5 minutes. Now add all ingredients to the blender. Serve with organic brown rice cakes, or organic corn thins.
MARINATED GRILLED LIME CHICKEN
 For 2 serving (cut in ½ if desired) :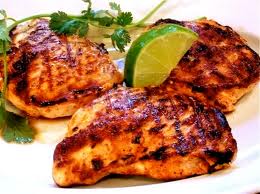 2 chicken breast
2 limes
4-8 garlic cloves
4 chilies
30 ml (2 tbsp.) olive oil
Add all ingredients (apart from the chicken) into blender or food processor and blend. Pour into a Ziploc bag with the chicken breast, seal it and let it marinade in the refrigerator for 30 minutes.
On a hot pan or grill, cook the chicken for around 5 minutes on each side, or until it's cooked thoroughly.
BEET QUINOA SALAD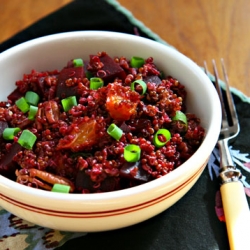 240 ml (1 cup) cooked quinoa (warm)
120 ml (½ cup) cooked, peeled beets
6 shredded medium sized carrots
2 apples (peeled and sectioned)
1 handful of pecans, lightly dry roasted
30 ml (2 Tbsp.) olive oil
Combine all ingredients with warm quinoa, stir and serve.