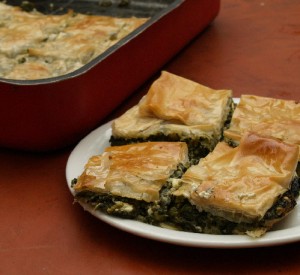 Many thinks spanakopita is hard to make, but it is really easy, it just looks exotic. The traditional Greek recipe calls for spinach, but you can substitute almost any greens. I like Nettles the best, it gives a deep herbal, earthy flavor, that well . . . just makes me feel good.  You can mix a variety of other greens in with it. I usually do this if I don't have enough nettles to make a couple of batches. I like to freeze some for the winter months, or for those surprise guests. Please feel free to play around with the amounts and/or comment on your favorite Spanakopita recipe.
Ingredients
2.5 lbs. Nettles Leaves (I often mix with some spinach, kale, or what ever greens are coming out of the garden)
2 – 4 large onions, diced
2 bunches green onions, diced
5 cloves garlic, diced
1/2 cup parsley, chopped
1/2 cup fresh dill, chopped (substitute 3 tbsp. dried)
1/4 tsp. ground nutmeg
other optional herbs: few sprigs of fresh basil, 1 – 2 tsp. of oregano, 1 – 3 tsp. of thyme (I put this in almost every thing)
Salt and freshly ground black pepper to taste
1 lb. feta cheese, crumbled (can mix or substitute ricotta or cottage cheese, but I like the straight feta)
4 eggs, lightly beaten
1/4 cup butter, melted; or Ghee, clarified butter
olive oil
1 lb. phyllo pastry sheets
Directions:
Preheat oven to 375º.
1. Sauté onion, salt, and herbs in 2 Tbsp. oil for 5 minutes, until the onion softens.
2. Add Nettle (and green mixture) and cook over medium-high heat for at least 5 minutes, until wilted.
3. Turn heat down to medium, stir in garlic and cook for another 2 or 3 minutes.
4. Remove from heat and stir in the feta (and or other cheeses) and pepper. Taste and add more salt and pepper as desired.
5. Get your phyllo dough out of the fridge and unwrap (unthawed if frozen). Cover phyllo stack while waiting to be used with 2 overlapping sheets of plastic wrap and then a dampened kitchen towel (to keep it from drying out). Lay out a sheet of the dough in the baking dish (it will overlap the sides). Brush each layer with heated butter; lay another on top, for a total of 8-10 sheets.
6. Spread half of the spinach mixture over the dough. Lay out another 8-10 sheets of phyllo as above. Some people like to do this as only one layer of nettle mixture, skipping the middle phyllo layer. Spread the rest of the spinach on top, and then lay out 8-10 more sheets (buttering each layer). Brush the top with butter and tuck the phyllo sheets into the pan.
10. Bake uncovered for 30 – 45 minutes, until golden-brown and crispy.
If you want to make the triangle type: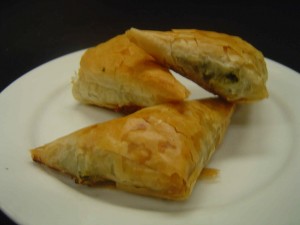 1. Take 1 phyllo sheet from the stack and arrange on a working surface with the long side nearest you (keeping remaining sheets covered) and brush with some butter. Top this one with another phyllo sheet and brush with more butter. Cut buttered phyllo stack crosswise into 6 (roughly 12 – by 2 3/4-inch) strips.
2. Put a heaping spoonful of filling near 1 corner of a strip on end nearest you, then fold corner of phyllo over to enclose filling and form a triangle. Continue folding strip (like a flag), maintaining triangle shape. Put triangle, seam side down, on a large baking sheet and brush top with butter. Make more triangles in same manner, using all filling.
Bake triangles in middle of oven until golden brown, 20 to 25 minutes, then transfer to a rack to cool slightly.
I like to keep a tray of uncooked spanakopita in the freezer as a handy appetizer or side dish for guests. It freezes very well and heats beautifully.