We are in the process of putting together some new recipes for the latest edition of the Herbal D-tox Cookbook. Here are a few recipes that I have been working on. If you have any tasty ideas and would like to share them with others, we sure would like to hear them.
EGGS IN SWEET POTATO SHELLS
GREEN EGGS
COCONUT CHICKEN WITH SPINACH
QUINOA MEATLOAF
SALMON SEAWEED SALAD
SWEET POTATO WEDGES
CHOCOLATE, NUTTY, AVOCADO CREAM SMOOTHIE
Breakfasts
EGGS IN SWEET POTATO SHELLS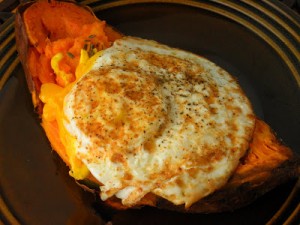 1 large Sweet Potato
60 ml. (4 Tbsp.) coconut oil (or butter)
Pinch of salt (optional)
Preheat the oven to 200C (400F). Pierce the potato with a fork and let bake for 45 minutes to 1 hour, or until tender. Remove the potato, cut in half lengthwise. Use a fork to scoop out the flesh leaving enough to for the shell to keep its shape. Then mash the flesh with the coconut oil (or butter) and salt if desired. Put the mash back in the potato shells leaving a hole for the egg. Crack eggs in a cup, and then tip it into the holes. Now put it back in the oven for about 10 minutes or until egg is set.
GREEN EGGS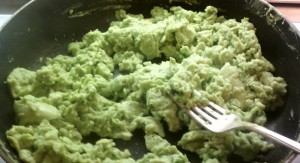 4 eggs
120 ml (½ cup) almond milk
950 ml. (4 cups) leafy greens (spinach, kale, swiss card, collard etc.)
10 ml (2 tsp.) thyme
2 – 6 garlic cloves (chopped or powder)
Pinch Celtic salt
When my kids were growing up, this was a great favorite. I still pull this one out once in a while in the summer when the garden is full of greens and of course on St. Patrick's Day.
You place the eggs, greens, spices and almond milk in a blender, blinding until smooth. Ladle into a medium hot, well oiled frying pan. Let it cook a bit then scramble.  If you are feeling so skilled, you can let this cook into a nice omelet.
ENTREES
 COCONUT CHICKEN WITH SPINACH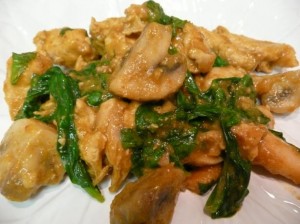 1 large chicken breast (cubed)
700 ml. (3 cups) baby spinach
1 large onion (diced)
120 ml. (1/2 cup) coconut milk
45 ml. (3 tbsp.) coconut oil
Handful of almonds
Salt and pepper to taste
Add almonds to blender to chop them up, and then lightly brown in a pan with coconut oil. Set aside.
Place coconut milk and spinach in pot, covering and simmer on a low heat. Add onions to a pan for 2 minutes, and then add chicken until thoroughly cooked. Add chicken and onion mixture to the pot with the coconut milk and spinach. Stir and cover for 2 minutes. Served garnished with toasted almonds, salt and pepper.
QUINOA MEATLOAF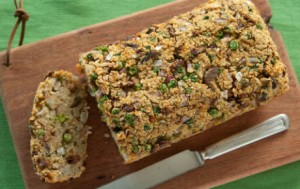 For 2 servings:
4.5 Kg (1 pound) minced beef
2 eggs
60 ml (1/4 cup) of uncooked quinoa
1 medium onion
3-6 garlic cloves
2 chilies
15 ml. (1 tbsp.) coconut oil or olive oil
10 ml. (2 tsp.) Thyme
5 ml. (1 tsp.) Rosemary
pinch black pepper (to taste)
5 ml. (1 tsp.) salt
Cook quinoa as directed. Preheat oven to 350 F. Add onion, chili, and cloves to finely. Add cooked quinoa and all ingredients to a large bowl and mix together. Grease a loaf tray with coconut or olive oil, then add the mixture and bake for 1 hour.
SALADS
SALMON SEAWEED SALAD
 For 2 servings:
200 grams (7 oz.) of Salmon (flaked or cubed)
160 ml. (2/3 cup) dried Wakame seaweed
2 tomatoes
1 avocado
30 ml 2 tbsp. lime juice
Soak the Wakame seaweed in a cup with hot water for 5 minutes.
Chop up tomatoes and avocado, and then add everything to a bowl.
 SIDE DISHES
SWEET POTATO WEDGES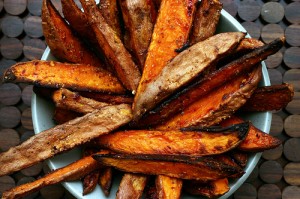 1 large sweet potato
Salt and pepper
15 ml. (1 Tbsp.) of olive oil
Mixed herbs (thyme, rosemary, cumin, mild chili powder)
2 Servings
Low in calories and high in vitamins and fiber, sweet potato wedges have become a favourite at our house. They are quite satisfying, being both filling and nutrition, so they're a great diet food.
Preheat the oven to 200C (400F). Peel and cut the sweet potato into wedges. In a bowl, mix together the wedges, olive oil, salt, pepper and the spice of your choice. Place the wedges flat on a baking tray, and bake for about 25 minutes or until tender and golden. 
Beverages
CHOCOLATE, NUTTY, AVOCADO CREAM SMOOTHIE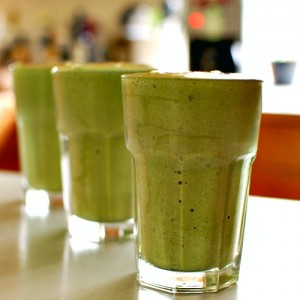 1-2 medium avocado, peeled and pitted
240 – 480 ml (1-2 cups) almond milk, or coconut milk, or combination
120 ml. (1/2 cup) mixture of berries (Blue berries, Strawberries, Raspberries)
Small handful of Almond, or 15 ml (1 tbsp.) Almond butter
5 -15 Cocoa nuts, or 15-30 ml (1-2 tbsp.) nibs
 ( to taste)
ice cubes
2 Servings
Yes, I know there is chocolate in this blender drink, and yes it is legal in the D-tox diet, as long as it does not have sugar, etc. with it. Blend together all ingredients until smooth.